A real espresso in your camper van
Read Olivier Langin's article on Handpresso in Le Monde du Camping-car.
Olivier Langin features the Handpresso Auto Capsule machine in his magazine. Motorhome owners have been interested in Handpresso for a long time.
Quite a few motorhome owners who have been following Handpresso since the very beginning, are still fond of the fully manual Handpresso Pump travel coffee maker. Indeed, it allows them to prepare a real 16 bar espresso in their kitchen. They build up the pressure manually as with a bicycle pump. Then they heat water in a kettle or on the stove in their kitchen and pour it into the small reservoir. They add E.S. E. pods (standard espresso) or ground espresso coffee (a finer grind), turn the machine around to release the pressure and the coffee flows nicely into the cup.
Lightweight and compact, perfect for small spaces, Handpresso Pump can easily be stored in a drawer after use or in its carrying case.
The idea with the portable coffee maker is to have the coffee break outside the vehicle. You just pack the travel coffee maker in your backpack. It travels with you anywhere and makes it possible to have great coffee breaks in the middle of nowhere!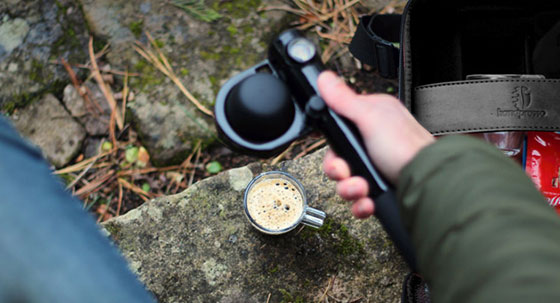 The 12V coffee maker: home comfort in your camper
Olivier Langin has chosen Handpresso's latest 12v coffee maker, the top-of-the-range Handpresso Auto Capsule launched in January 2018. He writes: Handpresso makes it possible to prepare "an espresso coffee just as at home in the recreational vehicle" with the same compatible nespresso® or nespresso® capsules as the domestic coffee makers.
The real espresso lovers on the go will be happy! Wherever they're heading to or wherever they are, they can easily prepare a creamy espresso and offer it to their fellow travelers. Espresso breaks will become the highlight of their journey.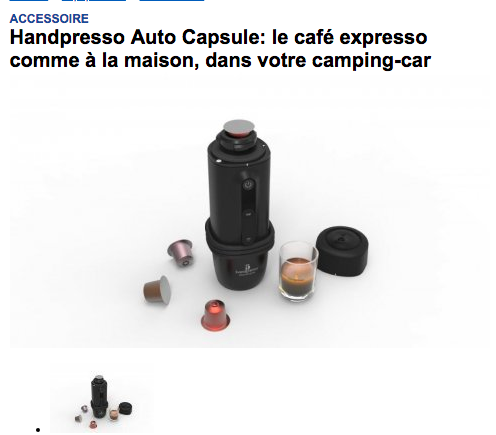 A real luxury on board with the 12V coffee maker
No need to pump as for the Handpresso Pump, the 100% manual portable coffee machine. With this 12V coffee maker, the compressor builds up the pressure and heats the water.
Like Handpresso's other 12/24V travel coffeemakers, Handpresso Auto Capsule plugs into the cigarette lighter and fits into the cup holder.
It always takes about 2 minutes to prepare a 50 ml espresso. But Handpresso Auto Capsule's greatest novelty is that this latest generation car coffee machine allows you to follow the cycle thanks to digital indications on its display screen. Moreover, with its electronic filling control, you are sure not to put too much water. By the way, it wouldn't start if it did.
Other innovations, such as the anti-splashing nozzle and the electronic differ system (5 minutes), ensure an easy operation, which will make camper owners happy.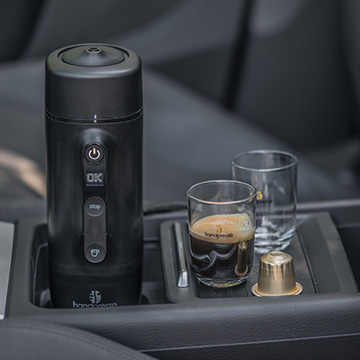 Exceptional moments with the 12V Handpresso coffee maker
All your travels, your RV trips, by the sea or in the mountains, in France or abroad, will be highlighted by fabulous coffee breaks. You will plan your stops in beautiful settings or let yourself be seduced by a beautiful view and make a stop.
You can prepare your coffee in advance and launch it just when you want to drink it, and stop to enable your fellow travelers to enjoy theirs.
Finally, you no longer need to stop at a vending machine on the motorway to have coffee in case of fatigue. You can program your espresso to feel great again before setting off.