Our Handcoffee range gets a makeover
The weather is beautiful, the sun is shining and the flowers are blooming: spring has arrived! At Handpresso, spring means renewal. Our range of Handcoffee coffee machines is getting a makeover. Discover on our website the new versions of the coffee machines for cars, Handcoffee Auto 12 volt, and for trucks, Handcoffee Truck 24 volt.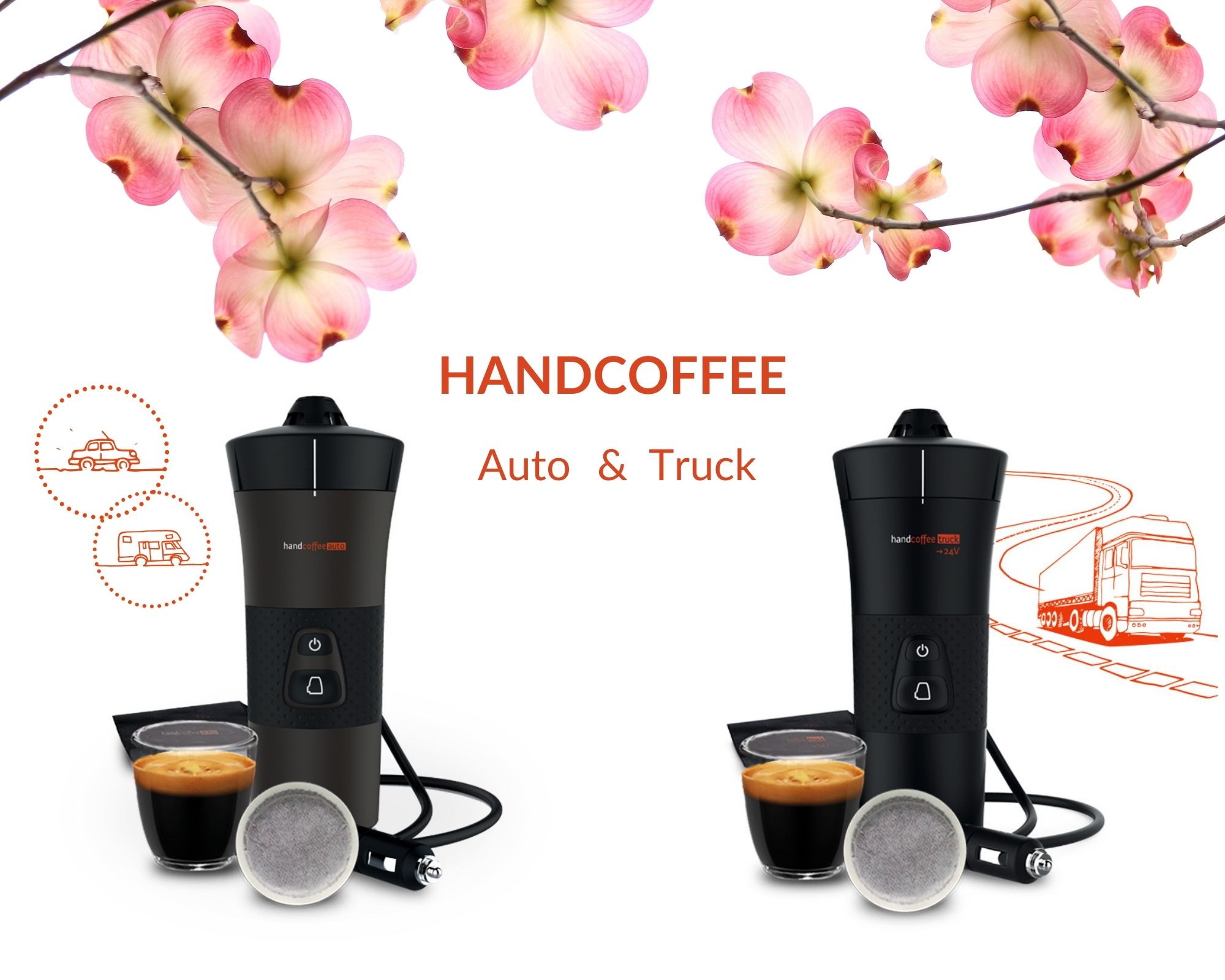 Why our Handcoffee coffee machines are made for you?
You are a coffee lover
Short or long coffee: the choice is difficult
You already use Senseo®* pods
You like to vary the pleasures: coffee, cappuccino or hot chocolate
You are regularly on the road: daily at work or occasionally on weekends or vacations
If you recognize yourself in the five points mentioned above, our Handcoffee range is made for you!
You don't know yet our Handcoffee machines yet? Discover them now !
Handcoffee coffee machines are portable and electric coffee makers. They go everywhere with you: on the road to work or on vacation. With Handpresso and its Handcoffee machines, enjoy a coffee or a hot drink wherever you are.
Designed to fit perfectly into the interior of your car or truck, our machines are compact, ergonomic and easy to use.
How works the Handcoffee Auto and Truck ?
Plug the machine into the cigarette lighter plug
Add your water (cold) using the filling indicators
Place the soft pod of your choice (Senseo® type*)
Press the power button
When you hear 3 beeps, the machine is ready: turn it over and press the "Cup" button
Once the desired amount of coffee has been brewed, press the "Cup" button again to stop the flow of coffee.
Enjoy your creamy coffee
With Handpresso, your breaks will become real moments of pleasure and relaxation. In less than five minutes, you will have the hot drink of your choice: short or long coffee, cappuccino or hot chocolate: it's your choice!
Which Handcoffee coffee machine should you choose?
Are you driving a car or a motor home? Choose the Handcoffee Auto 12V machine.
Are you driving a truck? Choose the Handcoffee Truck 24V machine.
You know our Handcoffee machines and want to discover its new version? We tell you all about it, just below!
At Handpresso, we have the desire to innovate, create and improve our products. Over the past few years, you (our valued customers) have been a great help. We have listened carefully to your feedback on our Handcoffee products and we realized that the old filling system was not always easy.
We have upgraded our Handcoffee Auto and Handcoffee Truck machines to make them easier to use.
The filling system has been improved for an optimal experience in your car, motor home or truck!
Try the new versions of our Handcoffee coffee machines: Handcoffee Auto 12V or Handcoffee Truck 24V, the choice is yours!
They talk about it and are delighted!
"I'm a salesman and drink a lot of coffee at 4am and 4pm... the coffee is great! Machine super convenient! "Ozlem

"Gift for my husband driver, he is simply delighted! Practical, easy to use. I am delighted with my purchase. "Melanie

"More practical than the old model for filling. "Theodore
The last word
Whether you are a professional driver, a person who travels the miles to discover new horizons, a car enthusiast or simply a coffee lover, our Handcoffee Auto 12V and Handcoffee Truck 24V machines are made for you.
With Handpresso, live exceptional moments.
* Senseo is a brand owned by a third party and has no connection with Handpresso SAS.